From Mageia wiki

Information:
This page is a reflection on what the wiki home page could be. I created a page from the old mandriva page with mageia's graphic guidelines. However, you will not see some text formatting changes that require CSS. To add to the aesthetics, I drew icons, comments are welcome.
Icons with mageia colors
SysAdmin
QA
User
authentication
Chat
Community
Official
documentation
Donation
Help
Help
Designing
experimenting
Designing
experimenting
Sofware
Marketing
Harware
Mirroring
Packaging
Terminal
Triaging
Translating
Attention
Website
Writing
Migration
Documenting
An exemple for describes the command portal
Restructure the wiki

Information:
THIS PAGE IS COMPOSED OF SEVERAL MODELS THAT CONSTITUTE EACH OF THE IMPORTANT PARTS OF THE PAGE. TO CHANGE THEM, SEE THE LINKS BELOW THE EDITING PAGE..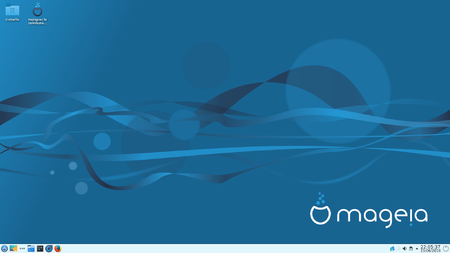 Mageia is a GNU/Linux-based, Free Software operating system.It is a community project, supported by a nonprofit organisation of elected contributors. Our mission: to build great tools for people. Beyond just delivering a secure, stable and sustainable operating system, the goal is also to become and maintain a credible and recognized community in the free software world.
This Wiki includes all the resources required to learn, understand or contribute to Mageia.
Installation
You are impressed by Mageia and want to try it? You can approach Mageia's world gently with a stand-alone USB Key. Indeed, it will allow you to try Mageia without installing anything and without leaving any traces. This way, you can discover and get used to Linux without risk. Once you have mastered the system, you can easily install it in less than an hour.

Software management : After installation, your system is almost ready, some elements still need to be configured.
install and remove software : Once your computer is ready, you can install additional software and components that may be useful to you.
Discover Mageia
Other resources
Contribute to Mageia

Information:
This section below presents the needs to contribute that is directly created from this
page
. It can be completed with presentation details.

Many people from all over the world gather to build Mageia – a Linux-based operating system and a lively, fun community for building Free Software projects.
Contributing is open to anyone, this is Free Software! If you are curious and willing to join, there are things you can do, depending on your time and skills; you will always find someone to welcome and help/mentor you if needed so that your contribution to the project can be as good as it can be!
Check what you could do below!
Contribution entry points :
Do you want to join Mageia community ?
Arrêtez-vous dans la section d'aide des forums et regardez si vous pouvez répondre à une question.
Parlez du projet avec les personnes autour de vous, sur votre blog, sur votre compte Twitter, sur votre lieu de travail.
Si vous rencontrez un bogue que vous pouvez reproduire de façon systématique, soumettez un rapport de bogue.
Faites un don !
Participez à un événement de Mageia, comme une journée de tests pour trouver, reproduire et aider à résoudre les bogues.
Souscrivez à la liste de discussion d'une équipe et intéressez-vous à ce qui s'y passe, essayez de trouver comment vous pouvez apporter votre pierre à l'édifice.
Informez-vous sur le Logiciel Libre, la collaboration open source en général, et Mageia en particulier.
Si vous êtes étudiant, évoquez avec votre tuteur la possibilité d'une participation au projet liée à vos études ; il n'est pas nécessaire pour cela que vous étudiiez l'informatique en particulier.



Helping users & advocating the project
Vous souhaitez accueillir et aider les nouveaux utilisateurs ou bien partager des astuces avec les plus expérimentés ?

Sur les canaux IRC, les forums, les listes de discussion, ou les manifestations locales ?

Gardez simplement le contact avec nous via l'un de ces canaux et partagez votre enthousiasme !



Writing, copywriting and documenting
Vous avez le goût de l'écriture agréable, correcte, claire et concise ?

Vous aimez relever le défi qui consiste à exprimer clairement des idées ou des systèmes complexes et à enseigner aux autres ?

Vous savez comment allier la forme et le contenu pour faire passer le bon message?

Prenez contact avec notre équipe de Documentation !




Translating
| | |
| --- | --- |
| | Mageia est traduite en plus de 180 langues ! La clarification, l'apport de compléments et l'amélioration des traductions de logiciels, de guides, de tutoriels, de sites Web, documents de promotion, etc. sont possibles grâce à l'effort de nombreux contributeurs. Rejoignez-les ! |
Triaging
Des bogues se produisent ! Et certains sont rapportés. Ils doivent donc, en toute logique, être triés pour faciliter la tâche des packagers/développeurs chargés de les résoudre : validation (le bogue est-il reproductible ?), collecte des infos de débogage auprès du rapporteur, remise du rapport à la bonne personne.
Rejoignez l'équipe de triage et soyez le lien entre les utilisateurs qui rapportent des bogues dans les forums ou les listes de discussion, et le Bugzilla de Mageia utilisé par les développeurs.



Testing & QA
Nous pouvons seulement distribuer un logiciel que si nous sommes sûrs de son bon fonctionnement !
L'équipe de Tests et Assurance Qualité s'assure que nos produits (logiciels, paquetages, ISO, sites Web) sont conformes à nos exigences de qualité avant de les remettre aux utilisateurs.
Marketing, Communication & Evangelism + Graphic & UI design
| | |
| --- | --- |
| | Mieux comprendre qui utilise et contribue au projet pour les aider davantage, s'assurer que la voix de Mageia est cohérente et entendue, est le travail de l'équipe Atelier (Marketing et Communication), aussi bien à l'échelle locale que mondiale. Le logiciel n'est pas seulement une question de code, Mageia ne se limite pas uniquement à la technologie. Alors rendez-la humaine, pratique et belle ! Si vous avez du talent et de l'expérience en conception graphique et l'ergonomie, rejoignez l'équipe Artwork ! |
Coding & packaging
| | |
| --- | --- |
| | Mettez vos compétences techniques à profit pour le coeur de la distribution ! Ajouts, réglages, correctifs et maintenance de logiciels inclus dans la distribution, à partir de projets en amont, par des propositions de logiciels différents, ou depuis des sources spécifiques à Mageia. Rejoignez l'équipe Packagers ! |
Web, tools, systems design & administration
| | |
| --- | --- |
| | Mageia repose sur une infrastructure et des outils qui permettent à tous de contribuer. Elle nécessite des experts pour construire, maintenir, développer, fournir et gérer des serveurs, des connexions, des applications, la sécurité, les flux de données, etc. Beaucoup de personnes sont requises pour assurer cette lourde tâche, depuis les administrateurs système jusqu'aux concepteurs, développeurs et intégrateurs Web. |
Mirroring
| | |
| --- | --- |
| | Rendre disponibles tous les logiciels fournis par Mageia exige plusieurs sites miroirs dans le monde entier, pour assurer la diffusion des images ISO et des paquetages. Si vous disposez d'espace disque et de bande passante à partager, veuillez regarder comment fournir un site miroir officiel de Mageia. |
Donating
| | |
| --- | --- |
| | Les donations financières nous aident pour des tâches spécifiques, telle que sécuriser notre infrastructure, financer des manifestations, des goodies et les déplacements. Plus de 200 personnes ont déjà exprimé leur confiance en nous par leur argent, leur matériel ou d'autres ressources. Nous conservons une comptabilité publique de ce que nous recevons et de la manière dont nous l'utilisons. |
Designing, experimenting, revealing the unknown
| | |
| --- | --- |
| | Les idées, c'est bien, des prototypes fonctionnels, c'est mieux. Le projet Mageia ne consiste pas seulement à réaliser une distribution Linux différente, mais aussi à élaborer de nouveaux produits et de nouvelles expériences à l'aide de Mageia et des données qui l'environnent. |
Tabbed presentation

Of course, the pages corresponding to the tabs are not created.