From Mageia wiki
Presentation
This page deals with the different ways to upgrade a Mageia operating system from version n to n+1 (It is not possible to upgrade to a version number beyond n+1).
The upgrade procedure is different from a simple packages update.
Requirements
In order to choose the right upgrade method, you may need to know several features of your existing system:
If it has a separate partition for

/home

. You can find out by looking in

MCC-> Local disks -> Manage disk partitions

, see here
Its architecture, whether 32 or 64-bit. You can use the

uname -i

command in a console. The result will be x86_64 for 64-bit and i586 for 32-bit.
Its firmware mode: BIOS or UEFI. The answer lies in your firmware setup. It may be more simple to see if there is a

/EFI

sub-directory (for UEFI) in

/boot

or to look in

MCC-> Boot -> Set up boot system

. See here
The disks partitioning mode: MS-DOS (also called MBR) or GPT. As a root (Administrator) user, you can use the

parted -l

command in a console to view the partition table for your boot disk.
The installed desktop environment/s.
The user-names list with their UID's and GID's. See below
The bootloader in use. Have a look in

MCC-> Boot -> Set up boot system

. See here.
You also need to know which of the above features you want to change in the new system - if any.

Finally, whatever your decision is, always:
read the errata and the release notes. Each release has its own errata and release pages, and a section dedicated to upgrades.
backup your data
update your current Mageia version
Vocabulary
For the purposes of this guide, the different upgrade scenarios (as shown in the following table) are named according to which partitions you choose to retain or format during the upgrade:
Situation
No formatting of partitions
only

/

is formatted

/

and

/home

are formatted
Name
Simple upgrade
Clean install
New install
If you have more than one bootable OS available on your system, we call that "dual-boot" if there are two OSes and "multi-boot" for more than two (though often simplified to "dual-boot" whatever their number is). e.g.: A clean installation in dual-boot.
Upgrade choice
Media possibilities
You need to choose the relevant upgrade media according to your upgrade plan.
| Media | Simple upgrade | Clean installation | New installation |
| --- | --- | --- | --- |
| Live | no | yes | yes |
| Classical | yes | yes | yes |
| CLI (changing the repositories) | yes | no | no |
Advantages, drawbacks and special considerations
Help
How to do a simple upgrade in text mode
After having started and updated your system:
| | |
| --- | --- |
| Open a console and enter the root mode | |
| Stop the graphic interface | |
| Delete the current repositories | |
| Add the new repositories | |
| Test the upgrade, all the packages are downloaded and the upgrade simulated | |
| If the test is OK, start the upgrade | |
| When it is complete reboot the system | |
How to preserve user IDs in a clean install
When doing a clean installation, you have to re-create the users and their already existing respective IDs. By default, Mageia 5 and above will attribute user UIDs and GIDs beginning at 1000 (previous to Mageia 5, they began at 500). If these IDs are not correct, you have to change them. To do that, first fetch the IDs via the MCC of your current system: MCC -> System -> Administration tools -> Manage users on system. Write down all the user IDs and don't forget to check the group IDs for those users, too, because it does occasionally happen that they're not the same as the user IDs. See the MCC documentation. When doing the upgrade, and the installer arrives at the "User management" step, click on "Advanced":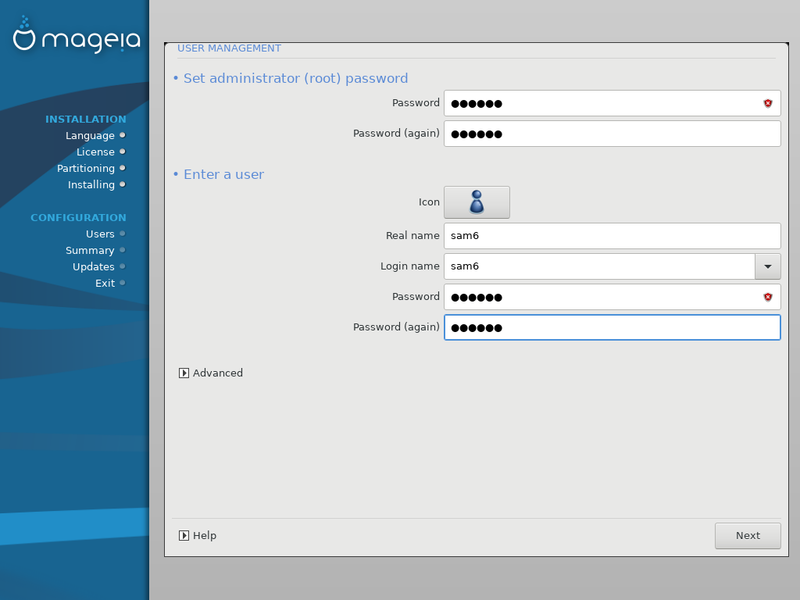 Then, you can add the correct IDs here: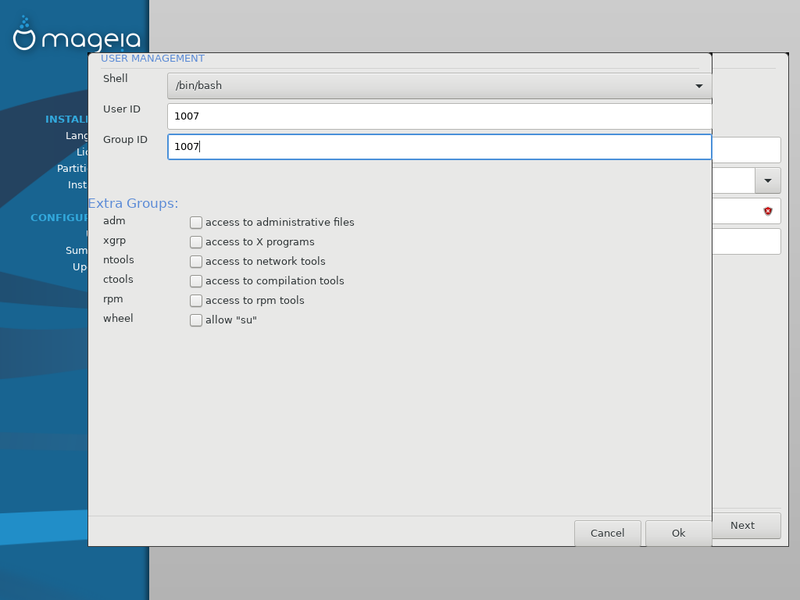 You have a further opportunity to modify the IDs in the "Summary" stage at the end of the installation.
In the "System" section, click on "Configure" next to "User management":