From Mageia wiki
This is only a short guide to Transifex, by no means complete. It's just a sumup of how to use it for the very beginners.
Note: We use to abbreviate Transifex as Tx.
You can find our transifex here (This page is no longer active as Transifex is not the tool Mageia uses to translate with any more)

If you are looking for the correspondance between our projects on Tx and the code on the SVN, see the list of projects.
Short overview of the web gui
The easiest way to work with Tx is the web gui you can do almost anything here (in parts you can do more here then with the command line client, but that's only interesting for project maintainers and partly for the commiters, I will come to that later)
How does it look
Project view
If you choose a project, the first you see is the project overview: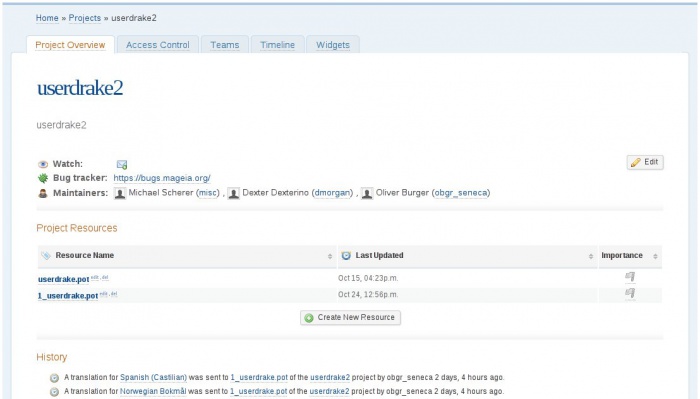 Please note, that you might see a few things here, you don't see, when you look at it, because I am the project maintainer here. but that shouldn't be a problem.

Resource view
If you click on the resource, you'll get the next view: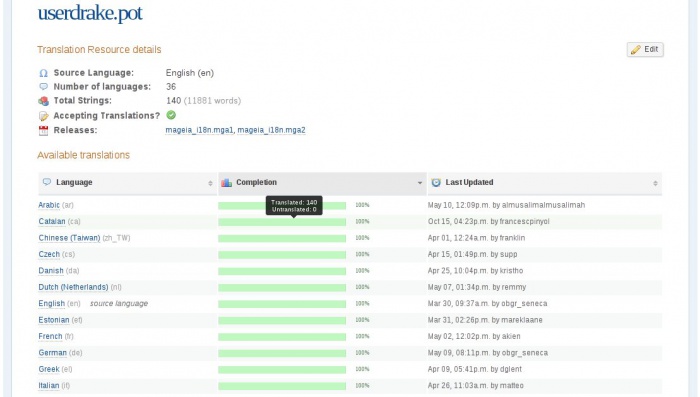 You see a list of all the available translations in this resource, the diagram shows you, how much is translated in each language, ordered by completeness (those languages which have the highest percentage of translations come first).
Language view
By clicking on your language you get a popup showing you, what you can do (beware, I just got a mail from one of the German translators, telling me, it does behave strangely in the Internet Explorer). This should look like the following screenshot: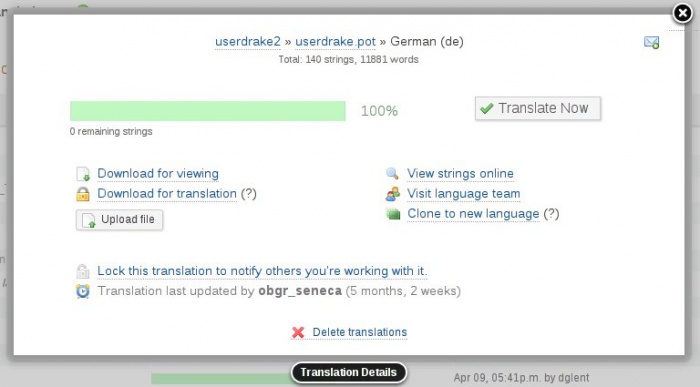 What you will need here, are the following options:
Translate now : this is for online translations in Tx' builtin editor. If you are finished there, please choose Save and exit at the bottom of the editor to unlock the file again.
Download for viewing to download the respective po file, the translation will **not** be locked for others.
Download for translation to download the respective po file **and** lock it for 48 hours so others will not interfere with your work.
Upload file to upload a po file into Tx. With this option you can either reupload a file, you downloaded before or upload a new file, if there is no translation yet, you have downloaded from our svn.
TO DO
I'll add a list here, of what we have to do/find out/fix/add:
| Task | person | done |
| --- | --- | --- |
| get svn access to commiters | obgr_seneca | X |
| figure out a way for the commits, perhaps write some wrapper arround tx client | obgr_seneca | |
| getting an all projects view per team | obgr_seneca | X |
| clean up the permissions/registration process above | obgr_seneca | |
| get Tx to become more verbose (sending mails) | misc? | |
| to be continued... | all | |
Frequently Asked Questions
I hope I covered most of it, if not please write me a mail (either to the ml or directly to me), I will then try and answer it (or get somebody fix it, if it's a technical problem with our Tx installation).

Oliver aka obgr_seneca