From Mageia wiki
A good way to try out a Linux operating system before committing yourself to installing it on your computer is to run it from a live CD first. This gives you an opportunity to find out whether it works well with your hardware and whether you like it enough to use it regularly.
This page will guide you through the process of installing Mageia from the live environment using the media "Live CD" or "Live DVD". If you're going to install Mageia with the "Installer DVD" medium, read DrakX, the Mageia Installer
Preparation
If you intend to use the whole of your computer's hard drive for your Mageia installation, or if you have an additional hard drive that you can use to install Mageia alongside another Linux distro, you can go on to the next section (Installation).
If you already have Windows installed on your computer and are intending to install Mageia alongside Windows, it is recommended that you first read sections 1-3 of the Installation of Mageia in dual boot with Windows page. Although that page deals with installing from a full DVD, which is a longer process with more configuration options than installing from a live CD, sections 1-3 will help you to make the necessary preparations for a dual-boot installation.
If you want to install Mageia alongside Mac OS X, you will need a special program from Apple's App Store named Bootcamp (add details).
If you will be installing Mageia on the same hard drive as another Linux distro, you have two options - you can prepare a partition for Mageia in advance or re-partition during the installation process.
Backup copy
Although the installation should proceed without problems if the necessary preparation has been done, it is a good idea to back up all your important files before starting.
Testing before installing
With the media Live CD or Live DVD, Mageia can be tested on the computer before being installed. Another way to test the Mageia is to use these media to install Mageia in a virtual machine like VirtualBox (see here)


It is possible to install Mageia by selecting the appropriate option from the boot menu of the Live CD. Alternatively, you may wish to boot into the live desktop environment first.
If you choose to install from the boot menu, you will first be asked to choose your language, accept the Mageia license terms and confirm your timezone, clock settings and keyboard layout. The rest of the procedure will be the same as in the section Installing from the live desktop below.
Accessing the live desktop
After turning on the computer with the Mageia LiveCD KDE inserted into the CD drive, a menu appears (Image 1) with the options to boot Mageia, which will to run the LiveCD without installing Mageia, or to install Mageia, which will start the installation process.
Image 1: Menu starting of Mageia LiveCD KDE (click on image to enlarge)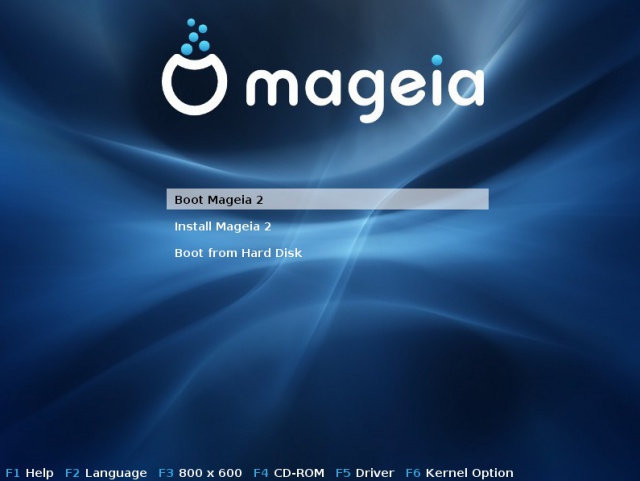 If you click on Boot Mageia, Mageia will load without being installed to your HD.
Other options of the Menu:
"Boot Mageia" (runs the Mageia LiveCD without installing).
"Install Mageia" (starts the installation process)
"Boot from Hard Disk" (gives the option to boot from the hard drive, leaving the installation)
F1 - help
F2 - choose the display language of the screens.
F3 - screen
F4 - CD-Rom
F5 - Driver
F6 - Kernel options.
Setting the language
You will be required to set the language in which you wish to run Mageia​​.
Image 2: Choosing the System Language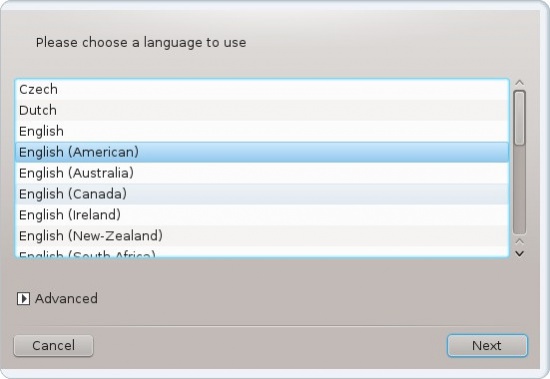 Mageia license Terms
Image 3: Confirmation of acceptance of the license to use the software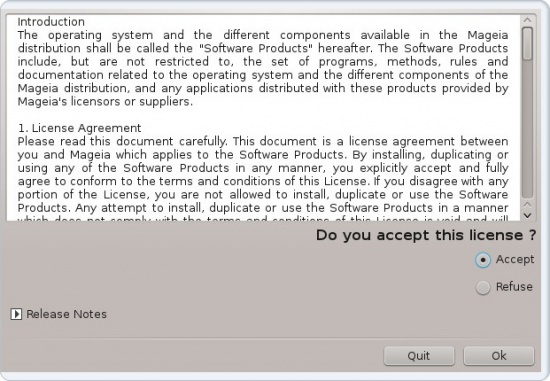 Setting the time zone
Image 4: Setting the timezone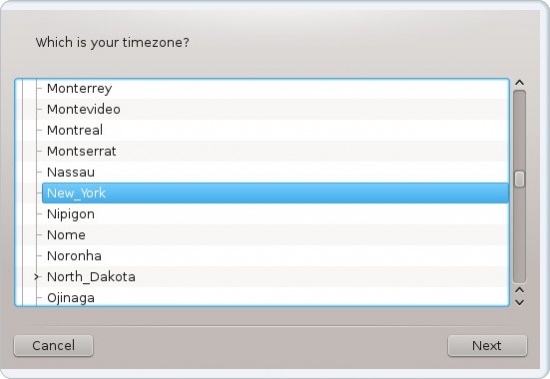 Setting the clock
The "Advanced" tab gives you further options for adjusting your date, time and time zone settings.
Image 5: Setting the date, time and timezone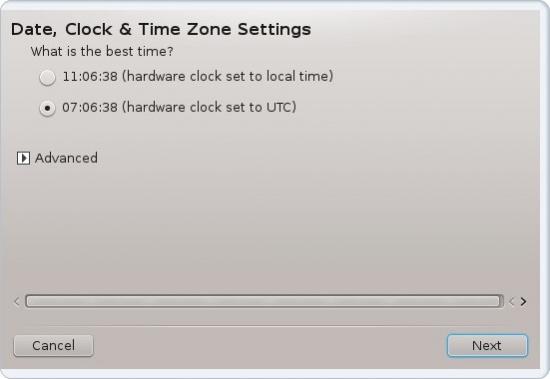 Configuring the keyboard layout
Image 6: setting the keyboard layout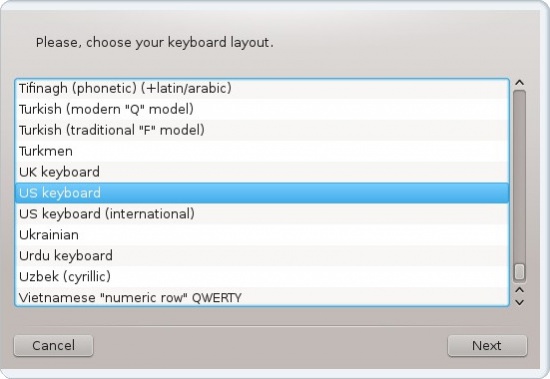 Running Mageia without installing
This is the desktop of the Mageia LiveCD for KDE (Fig. 7), before it is installed on the computer.
Image 7: KDE Desktop (click on image to enlarge)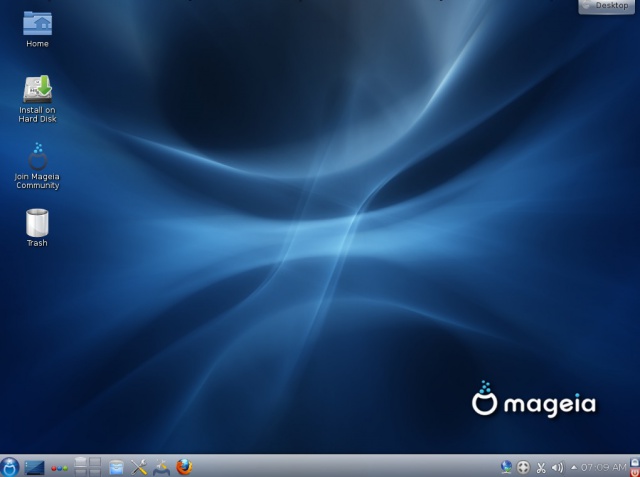 Installing from the live desktop
If you double-click at the "Install on Hard Disk" symbol on your desktop, then a window appears that introduces the installation wizard: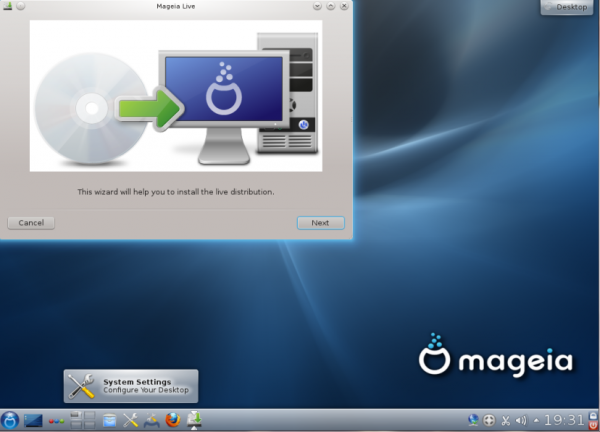 You will then be asked to choose whether to install Mageia alongside another operating system or to use the whole disk. If your existing OS is Windows, you can find more details in sections 4.1 and 4.2 of the Installation of Mageia in dual boot with Windows page.
When you have made your choice, you will see a screen summarising the changes you wish to make to the hard disk.
| | | |
| --- | --- | --- |
| This is the point of no return. If you click "Ok" to continue from here, the installer will make major changes to the hard disk which could affect your existing installation. Do not try to cancel the installation process once it has begun. | | |
The next screen you will see offers to remove any unwanted language and hardware packages. These options are ticked by default and will save space on your hard drive.

However, some users have found that allowing the installer to remove the hardware packages can result in packages being removed that are in fact needed, especially for wifi. It is therefore recommended that you leave at least the hardware option unticked.
| | | |
| --- | --- | --- |
| You will then see a screen with a progress bar showing how the installation is proceeding: | | |
| | | |
| --- | --- | --- |
| After a while this screen will become blank. This could last for several minutes, but don't worry, it's perfectly normal! | | |
Bootloader Options
| | | |
| --- | --- | --- |
| The next screen to appear asks you to set the bootloader options. The bootloader is the program which starts up Mageia. If you are installing Mageia as your sole OS or alongside Windows, leave all the defaults as they are and move on to the next screen. | | |
| | | |
| --- | --- | --- |
| If you are installing Mageia in a dual- or multi-boot setup with other Linux systems, you may want to install the bootloader in the Mageia root partition (/). In the example shown here, this would be the third option on the drop-down list. | | |
| | | |
| --- | --- | --- |
| Mageia's default bootloader is GRUB with a graphical boot menu (since Mageia 6 a graphical GRUB 2 boot menu), but you can choose a text-based boot menu using either GRUB or LILO instead (in this case you can also set a boot password here): | | |
Once the bootloader has been installed, you will be prompted to halt your computer, remove the live CD and restart the computer.

When you restart, you will see a succession of download progress bars. These indicate that the software media are being downloaded (see Software management).
| | | |
| --- | --- | --- |
| You will then be asked to set passwords and user details. The root (administrator) password is needed to carry out tasks which could pose a security risk to your computer, such as downloading and installing software or making fundamental changes to the setup of the computer (for example, in relation to disks and partitions, security, boot settings etc). The user password is the one with which you will log in and is sometimes needed for making less fundamental changes. You will log in as the user each time and will be prompted for the root password when it is needed. When you are asked for a password, always check whether you are being asked for your user password or your root password. | | |

Finally, you will come to the login screen (note: since Mageia 3 a guest account cannot be created during installation and must be created afterwards):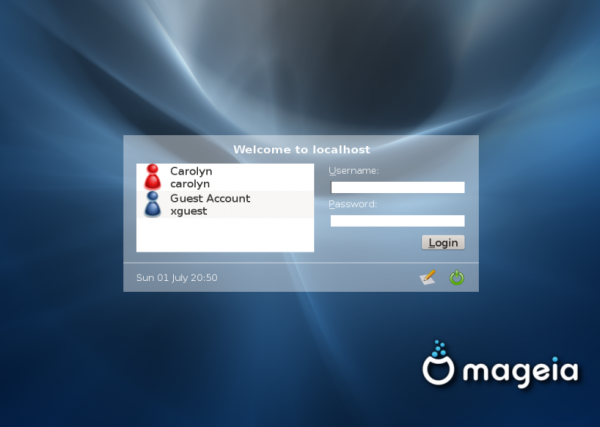 Enter your user name and user password, and in a few seconds you will find yourself with a loaded KDE or GNOME desktop, depending on which live CD you used. You can now start using your Mageia installation.